Half the job of a candy reviewer is to find out where on this great earth did a flavor come from. Here we have Wawel's Advocat chocolate bar.

With no research, I might think it's simply a play on the English word 'advocate', to mean "I will go to bat for this bar." And the foreign (to me) language on the wrapper says 'Czechoslovakian'.
Thank you internet for helping me find the truth. Advocaat is a liqueur, made from eggs, sugar and brandy; essentially, egg nog. It's Dutch (the drink), not Czech, and the candy bar is Polish.
Super.
So how do they taste?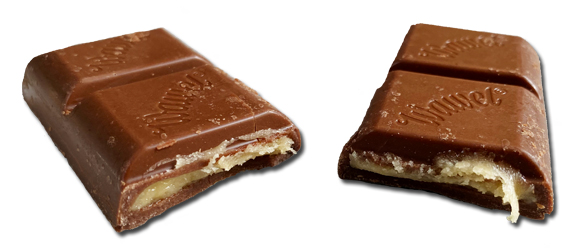 Not bad, in fact. The Chocolate is run of the mill decently fine milk chocolate you find on loads of bars – creamy feeling, like the shell of a Three Musketeers bar.
The filling is like a Cadbury egg, although not as much volume nor as drippy or sickly sweet. Hm. Ok maybe it's nothing like the Cadbury Egg. Let's go with "it's a thicker, denser caramel." There is a liqueur undertone, but I can't figure out the flavor so much. YES I KNOW IT'S ADVOCAT FLAVOR. Sigh. But there's no discernable taste to it. It's like 'kinda alcohol-y'. Eh. My daughter thought it was "semi-fruity." Minus a star.
Still, these Advocat bars aren't all that bad. I'd eat more of them if you bought and sent to me. But I'm not going out of my way for them. Simply not unique enough, and since I have no nostalgia for Advocaat as a drink or flavor, well, there's no real pull.
I bet your Polish gramma is gonna love this stuff. Buy it for her.
Just know it appears to be made with dairy and soy, and on machines that make candies with loads of different kinds of nuts.
Can't get these in the US of A. But here's a link to Tesco, which is in the UK. Or check back on the Amazon UK site. Maybe they come back in style.