I saw these little darlings in a local grocer-meets-deli that always has Haribo flavors the rest of America doesn't get. Either the owner is buying online and reselling or he's got a super big 'in' with the Germans.
These Haribo Miami sour candies are a lot like other haribo sour things, most like pulled apart Sour Sghetti. They recall the Fruity Pasta recipe too, though those are thicker and tougher (and let's be honest, better).
These babies are still unique. For one, these are softer than other sour Haribo… Maybe if I fridged them they'd be harder… The flavor is actually multiple flavors in one piece. See the color scheme?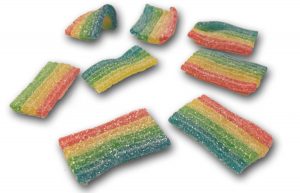 You can peel off a mini string and eat it separately. All together, it tastes lemony and actually quite floral. Perhaps too much. But individually, I taste cherry, lime, lemon, and blueberry, and although small, they're fun to eat! You get sugar all over your hands! It's great!*
I give these a solid B+. The lemon sugar isn't too sour, the flavors make you want to eat more, and they're made in Miamiº.
*It's not great.
ªThey're not made in Miami.