The great thing about the interwebs is that web sites like ours hit the entire world. Just look at the map of who reads us from where:
North America, dark green, have the most readers of course but the light green is just about everywhere. We have readers in Mongolia for chirssakes. Can you imagine? What the hell are they thinking when they read my complaints about crappy candy? When I make pop culture references, how will the folks in Mongolia know what I'm talking about?
Look at these Whoppers Milkshake Strawberry Malted Milk Balls.
I wanted these to taste like Strawberry Quik – now called "Nesquick" by the by – the best fake strawberry drink powder on the market. (Gripe #1: they don't taste like this.) While all of America at least understands what I'm going for, I'm guessing the Kazakhstanians are wandering around the goat herds scratching their heads.
So for today at least, I apologize to our global visitors for being so very American, and from here on out I will do my best to complete this review with details the entire world can appreciate.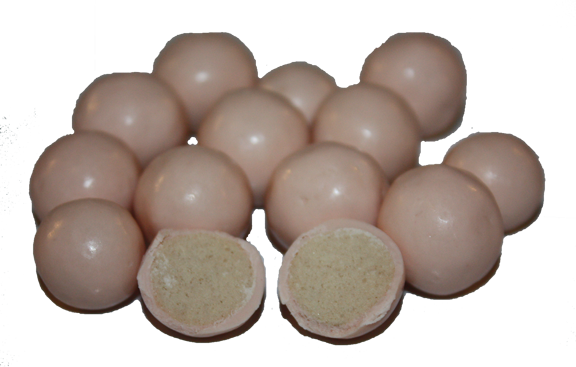 Gripe #2: "Whoppers Milkshake Strawberry Malted Milk Balls" really should read "Whoppers Strawberry Milkshake Malted Milk Balls". Right? It's annoying the hell out of me. Perhaps it makes sense if there are other Whoppers Milkshake flavors, like vanilla, banana or Oreo Cookie. But I couldn't find any other flavors.
Gripe #3: Where I wanted the overall taste to be like Quik, which is a creamy faux strawberry milk drink, we instead get a yogurt-like, crunchy-at-first, not-too-thick wax-coated, general strawberry candy. I want a thicker outside, like the chocolate on Donkey Balls. The color isn't very appetizing, pale pink at best. Actually, gray pink. Not red; not berryrific. Also, where's the actual milkshake? Their milkshake should bring all the boys to the yard, no? These don't taste like a milkshake. They're simply riding the good name to make some sales.
Grip #4: I love original Whoppers. I love Peanut Butter Whoppers even more. So I felt a little let down after my high expectations.
Bottom line, my fellow earthians, these are just fair. The strawberry flavor isn't much more than you'd expect from an artificial flavor and it doesn't have any of those real fake flav overtones many of us First Worlders loved as kids. Still, they're not bad. Kids like them, and if you are a malt ball lover looking for a change, give em a whirrrl.