Why is it that only exotic countries – and by 'exotic' I mean anything outside of the U.S. – have melon as a taste that gets baked into a confection?
I feel a little cheated. If it isn't cherry or grape or orange or berry or lemon it almost doesn't exist as a flavor profile inside America.
Give me melon over razzberry or tutti frutti any day.
Luckily, there's Japan. They produce these melon-flavored Kit Kat because those cats know how to take RISKS baby!
Jonny reviewed weirdo Japanese Kit Kat flavors years ago, and go ahead and add these Hokkaido Melon to the weirdo list.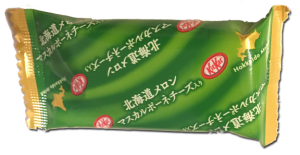 A few things about these melon Kit Kats:
1. They are small. Like maybe 2 inches long – don't let the image below fool ya.
2. They taste like creamsicles. A more cantalope bent, sure, but these are like those orange and cream popsicles for sure.
3. They're not that great.
OH NO I DI'INT SAY THAT!
oh yes I did.
Even after I lauded the Japanese for providing novel flavors, these just don't quite do it. The melon isn't cantalope-y enough and the cream substance, which is like the milk chocolate on regular Kit Kats, is too white chocolate-like, which I don't care for; a tad too sweet.
As I was eating I was thinking, "man, it sure is too bad I don't have a real Kit Kat here."
Alas, sometimes the tried and true are tried BECAUSE of the truth.
Think about that.
Then go to Walgreen's and buy the average Kit Kat and enjoy.
(But in the meantime, buy the melon kind at Amazon and let us know if you like them more than us.)