UPDATE: (I'm still lame, but…) I ate more of this stuff over the weekend and have to give it this an 8. It is sooo good. It'd be a higher rating if I actually liked this kind of candy more. Let's just say – this stuff is top of its class).

I'm so f-ing lame.
I'm watching SYTYCD.
Oh – you don't know what that is? That's what the cool kids on Facebook call "So You Think You Can Dance" — the TV show that has lots of young, hot people, sweating on stage in the name of Movement. Sure, I used to be in the arts for a living…but I play video games DUDE; I listen to hard rock, watch football and geek out over my fantasy sports teams. And that is NOT what SYTYCD viewers do. And yet, that's not what makes me lame! What's uber duber lame is that I KNOW that this SYTCD season Sucks, and that last season had way better dancers. And what's the super duper stuper lamiest is that other people (ok lets be honest, chicks) will tell you this season is one of the best if not the best, and they don't know shit I tell you! This season is weak sauce!


Who isn't Lame, however, is King Leo!
Now I have no idea who King leo is … some dude? A group of dudes? Maybe a woman who would've blogged about how she became very successful in a new career by pretending to be a dude? Well, whoever he/she was, they're gone. But the legacy remains, bought out by Pierre Redmond and his Quality Candy company. And let me tell you, they make some good goddamn Peppermint Bark. Don't take my word for it – just read their packaging: "Award Winning Chocolate Peppermint Bark."
I should point out that I know we've reviewed King Leo's stuff before – twice actually. And it's not because we know Pierre or like this type of candy. You don't need to go farther than a Haribo search on this site to know we're not really chocolate peppermint guys. I like mint gum, I'm an occasional fan of Listerine and that's about it. So I ain't reviewing this to get some free bark – I'm doing this for you readers who might just need a tin of something to take to your next 2 weeks' worth of holiday parties..
So with all the formalities out of the way, let me say that this Bark is hecka good and I'd give it an award too. First off, its huge. It's like the size of 3 or 4 Hershey bars side by side, but way thicker and more dense. Plus the chocolate is dark and better than Hershey's (of course what isn't. I watched an America's Test Kitchen on PBS once and they did a consumer chocolate taste test with 100 people and Hershey's came in last. go figure.)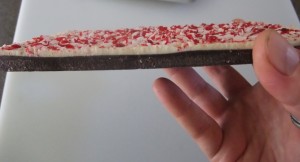 The King Leo bark is at least an inch thick of chocolate and white chocolate, the white part is probably infused with peppermint, and then there are crumbled candy canes on top. Just the right-not-too-bitter chocolate with the sweet white chocolate. Feels creamy in your mouth, and then the very crunchy bits…it's good stuff. And you know I don't just sit and eat chocolate. I sit and eat gummis. And I can't stop eating this stuff. I'm so gonna get fat this holiday season.
Part of the reason I like this King Leo Peppermint Bark it is it's hard to break off a piece. It's so thick. And I like working for my sweets – makes me appreciate them. When you do finally get a piece, you'll love it and want more, although you may not take more because you won't want to look like a pig in front of guests. So my suggestion is to break it up into pieces before putting on the table.
You can buy the bark on the Quality Candy web site, here. 24 bucks a tin. Might sound like a lot but you'll get your money's worth.
By the way, careful when you break pieces off. I kinda cut myself on the peppermint pieces. Seriously, they're like glass shards. And no, this isn't because I watch SYTYCD and think Wade is the best choreographer on the show.