This article is a refresh of our initial review in 2012. Hi-Chew is still bringing the flavors and that amazing texture, and where before you might have only found them in the Big City, Hi-chews have gone mainstream. Does our initial take hold up?
The chew is my favorite candy genre. From Now and Laters to gummies, I like sweets that make my mouth burn a few calories before the final full satisfaction of eating loads more. Of course I also like the candies that just melt away, but I don't yeaaaaarn for them.
These Hi Chews? With the name alone they got me before the word go. Still, I wouldn't be much of a candy reviewer if I didn't do my due diligence by stuffing loads in my mouth and giving you the blow by blow. (Wow that reads inappropriate.)
I enlisted my kids to join in the review since they've been bugging me for a month to eat these things and because it turns out kids like candy. ahem. 
So here's our family take on the six flavors we tried: Peach, Mango, Melon, Green Apple, Banana and Grape.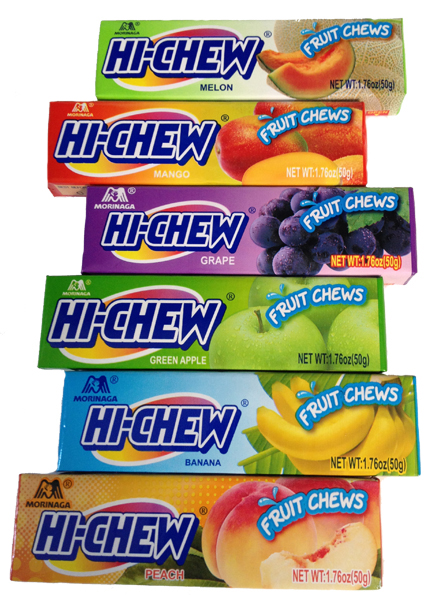 Note that I cut these things in half for the kids, and I of course went full portion. Even the half portion had my kid chewing for a while. Hi-Chew: apt name.
The Peach: Kids liked it. Although, they had no idea it was peach. Which is ridiculous because it tastes just like peach. Ok maybe not the peach you get off the tree but every other peach taste you've had. Kids are weird. 
Next up, Mango: First words out of Kid 1's mouth: "I love these." Why, I asked? "Because this one is really good."
I gotta veritable Shakespeare on my hands.
I will say that generally speaking mango is a great candy flavor. It's the one fruit flavor that usually tastes like the fruit. Sure I love grape more than the next guy but I've rarely if ever had a grape flavor that tastes like the grapes I buy from the store. Mango candy on the other hand, they usually taste like what I buy. And Hi-Chews do mango right.
Now we're on to melon. "It's kinda like peach," says Kid 1. I think it tastes like cantaloupe but the kids said not so much.
Side note: something I love about Hi Chews — they take a long time to eat. As the little one said when we told her to hurry up, "these are just really good and I want to keep eating them."
On to banana, about which Kid 2 says "This one is really good". Not sure I've ever heard a kid say that about any banana flavored candy. But this has a fruity banana taste. It's more like heavy banana overtones of a general fruit flavor.
"Oh my god it's so good it's awesome. Yum." I guess green apple is a hit. And they're right again – these are super good. Green apple is generally always good. Can we all agree there? From Jolly Rancher to Haribo the world over, most of us agree that green apple is often the best flavor of the bunch. With Hi-Chews, the flavor isn't muted at all. It's strong and lasts all candy long.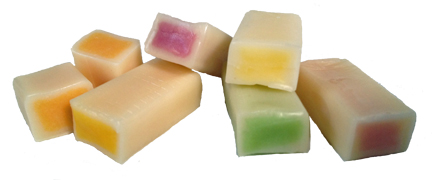 And finally grape: "I don't really like it, it kinda tastes like grape medicine." WTF? That's disappointing to hear, and I disagree. To me these taste like concord grape juice. Really strong grape flavor that is almost like drinking a cup of juice. As I said above, grape doesn't really ever taste like the grapes I eat from a store, but these taste exactly like the grape you get in grape juice.
So to sum up – green apple, mango and peach was top 3 for Kid 1, and mango ("favorite favorite one"), green apple and banana were the faves of Kid 2. And I liked them all.
Hi-Chews should make millions in this country. They are like Starbursts without being too soft nor saccharine-y sweet, with flavors that are fuller and truer. The consistency is more like a Mamba right at the get go, but kinda turns to being a tougher bubble gum consistency in the middle before it breaks down and you swallow.
I can't just eat one of these. I'm always looking at finishing the entire package. Good for them – not good for the back fat.
Finally, the flavors are the real hit here. They are strong and pervasive throughout the lifetime of the piece in your mouth. Perhaps banana is the most interesting to me since I liked it (!). I keep wanting to re-eat that one. Also, the melon tastes a tad strange when you pop it in but then it's all cantaloupe until the end. I love cantaloupe. And how many cantaloupe candies in America have you tried?
All you Starburst, Mamba and Now and Later lovers – go forth and buy Hi-Chews. They are better. Yes, I said it.