Honestly, I was starting to worry there.
Look at the amount of average and mediocre reviews Haribo gummies are tallying up lately.
There's an awkward trend where the U.S. appears to be getting new Haribo flavors that are generally weaker than past gummy releases.
Then I found the Schatztruhe in a little corner store on Potrero Hill in San Francisco, CA.
Phew.
I don't know Geman. but the package screams "Treasure Chest" and a quick Google Translate click confirms.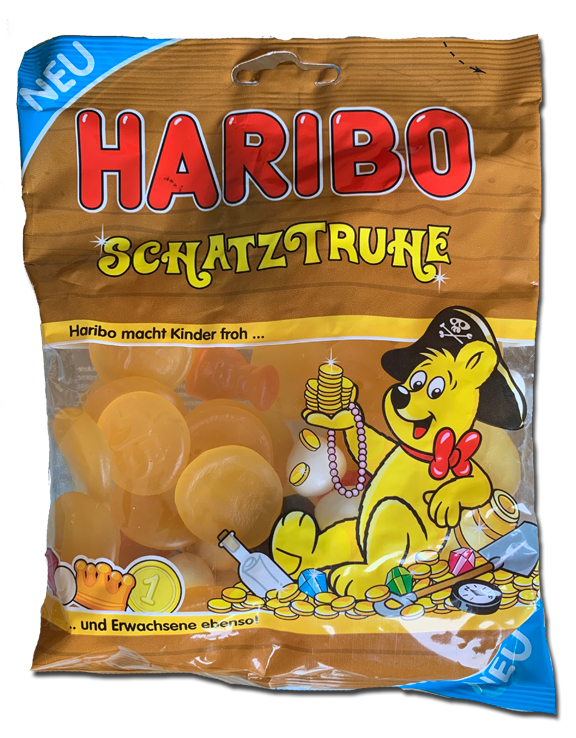 We get gems. We get coins. We get messages in bottles. We get… teeth? Not sure what the white candies are.
And the white candies are only part gummy. Mainly semi-hards with a light shell around a crumbly, semi fruity but also maybe coconut-y thing. They kinda suck. They taste a little dirty. And not the fun kind of dirty.
The heroes of these riches are the coins. Thankfully, they are the most plentiful (at least in my bag they took up 80% of the goods). They're tuttifrutti, maybe pineapple, and they have the same consistency as many licorice coins — a tad less hard, but a really great chew. Could have taken a whole bag of these.
The gems were actually few and far between but still embodied what I love about Haribo: a tough gummy with subtle but strong flavor.
Now…I won't lie to you. These aren't broadly available in the ol' USofA. Get 'em from Amazon or a small shop that imports its own.
But if Haribo keeps going down this Schatztruhe path, then we have nothing to worry about.