When Jonny and I started this site in 2008 (yeah – that was 10 years ago. Holy s#*%) we did it because there were all sorts of candy that we thought were great but that weren't getting proper air time.
The crown jewel at the time was Haribo. By far the best gummies at the time (maybe still), yet no one we knew, besides Europeans, had heard of them. Only available in the US at stores that imported candy like Cost Plus or a local grocer. Now? I can't walk into a national chain store without seeing 5 or more different Haribo types.
And now now? Like today? Haribo is putting out its own Halloween flavors. Like these Sour Vampire Bats.
And that's good on Haribo. It means they are big enough in the US to do novelty, and get taken seriously.
The Sour Vampire Bats as a candy, are very good, and very sour. Without having to be drenched in sour sugar. I don't give them 5 stars only because they're the same candy as the Twin Snakes.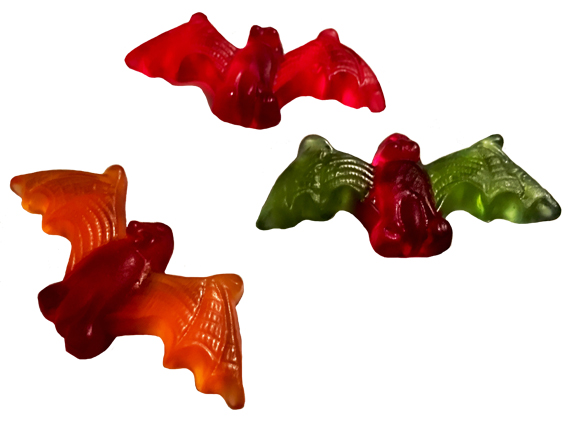 Although they don't have the half non-sour half, they are the same candy. Sour throughout, same Haribo chew. Non-discernible flavors – there may have been cherry, maybe an orange… not sure. And I kinda felt like I wanted more in the package; it felt light.
Still, Haribo knows gummy. Knows sour. And if I got these in my Trick-or-Treat bag, I wouldn't trade them with my sisters.