One of my friends recently gave me this chocolate bar.  "Bitter" chocolate with rice puffs.  Sounds like an elevated Nestle Crunch, no?
I don't often get to try Japanese candy, so I was very excited about this.
Oh who the hell am I kidding.  I don't care where candy's from, I eat it all.  But in the interests of appearing "cultured", let's just assume that I got more excited about this than usual.
So far, so good.  "I've got the silver ticket, I've got the silver ticket!", no one sang.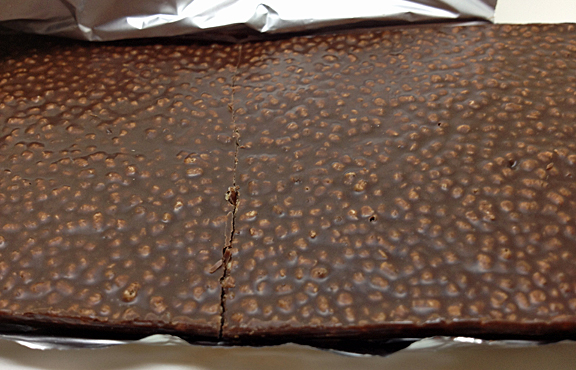 oh, HELL yes.  Those puffs are calling out to me.
And there she is.  Simple enough, right?  But as with everything, looks only count for so much.
The Crunky is weird.  Weird in that you're expecting a smooth, dark chocolate crispy rice festival.  But that's not what you get.  First, there's simply no way this what we Yanks think of as "dark" chocolate.  It isn't bitter, and bears more of a resemblance to a milk chocolate Hershey's bar.  But…it's not the greatest chocolate either.  Almost all chocolate I've ever had from Asian countries sucks.  Sorry, but it does.  They crush grape candy in every way, and certainly know their way around the fizzy/hard candy/bizarre world of candy.  But chocolate?  Meh.  Leave that to the UK and boutique American brands.
Aside from the mediocre "dark" chocolate, there's something far more sinister at play here.  The rice crips have a decidedly savory flavor to them-something I can't put my finger on, but if pressed, I'd call wheat.  There's a wheatiness that, for me, dominated the flavor.  With a Nestle Crunch, the rice crisps really taste like rice in all of their "this reminds me of eating a bowl of Rice Crispies" glory. Here however, there's a distraction, whether it's wheat related or not.  Whatever the source, the bar suffers.
I'm not gonna recommend that you pick this particular bar up, but I WILL recommend that you all keep giving your friendly neighborhood Candy Gurus samples of crazy candies you find around the world.  Sooner or later, we always find a winner.
Not today, though.