I've had a love affair with Italy for years. It started off slowly with spaghetti and garlic bread, then I went to Italy and had real mozzarella (that cheese is Way better over there than over here), and then I had a girlfriend who looked like Christie Brinkley who's family lived in Italy and when we visited, I ate Italy like the Italians eat it and I was hizooked.
So now, let's talk Baci. (I want to call them Baci balls but I told the PR lady I wouldn't.)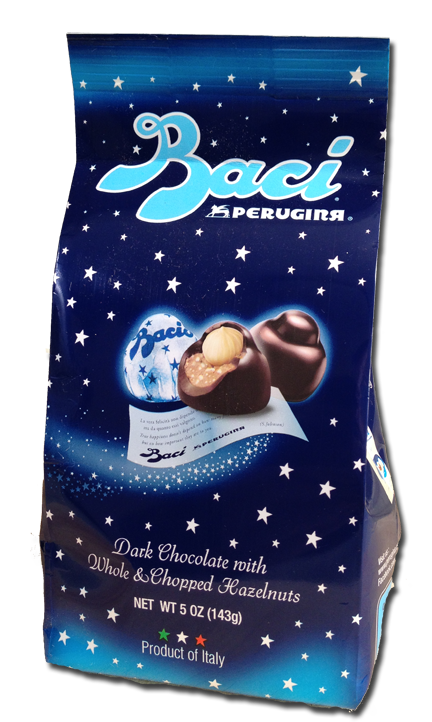 Is it just me or is hazelnut overrated? It's almost always with chocolate, and thus overshadowed. It's probably too subtle, and it's ultra-earthy flavor isn't clever like the pistachio or "everyman" like the almond. No sex in the Hazelnuts.
So isn't it funny that these Italian hazelnut "kisses" turn me on? It's funny all right.
(Get ready for all sorts of innuendos) First off, they are a nice mouthful. You won't eat just one, but if you did, it's a reasonable amount. Unlike, let's say, a Hershey's Kiss that's smaller and must be eaten 2 or 3 at a time.
Also, you get a full nut. Not just bits of nuts in the chocolate (though you get that too). There's a shell on the outside that's slightly darker than the chocolate on the inside, but not a hard shell. The chocolate isn't too sweet but has an easy taste. Very pleasing. Succulent, soft and substantial. Very easy to eat. Kinda sexy.
Trust me. If you've been living in a horrible world where these didn't exist for you before — just hit reset, level up, download the new app, get the Samsung 4, say goodbye to your iphone, and fly Lufthansa to your local European Foods store and buy. You will dig.