First of all, these look friggin' disgusting.  Yet…I can't…look…away…

But they look disgusting, there's no getting around it.  I'm not sure I've ever seen a bag of gummies this intriguing and colorful and fun while at the same time so puke-inducing looking.  Gotta love the Germans.  Look at them closer.  LOOK AT THEM!!!!
It took a while for me to get the guts to  pop these open, but I finally did.  Examining them closer, it's clear there's 2 different "parts" to these things: the gummy tail, and the…spongy, marshmallow-like tye-dye lookin' head.  There wasn't any gentle way to do this, so I bit away.  First a bite of the tail, then a chunk of his damn head.
And…I was…somewhat stunned.  These are good.  No, I'm not kidding.  The gummy is good, flavorful (although I couldn't tell you what flavors), but it's the scary sponge head that actually makes these things different and yummy.  Check out the autopsy: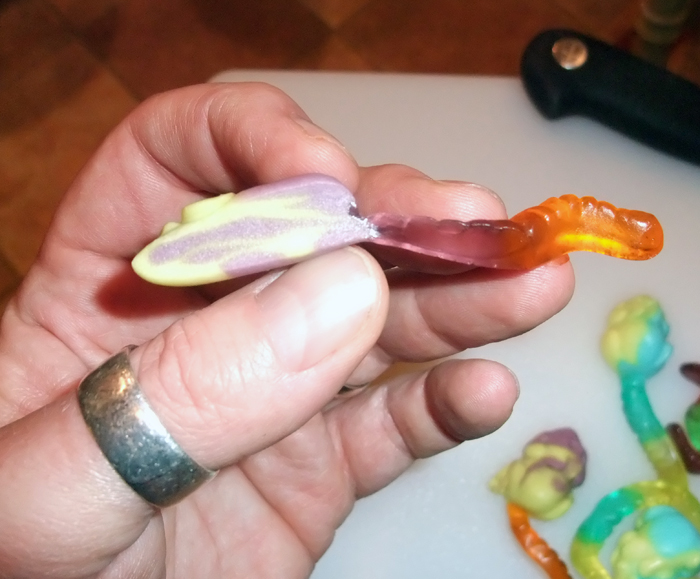 Like I mentioned, the head is a soft marshmallow consistency-and it actually has flavorful and aromatic hints of marshmallow, which tripped me out.  But there's also this nice tangy contrasting flavor to the head that is kinda hella yum, and works well with the tail.
Clearly, these were invented so that we could throw whole mice in our mouths and chew away on them, tail sticking out of our mouths, like giants.  Trust me, it's fun.
This doesn't change the fact that they still look like a bilious looking cross section of a dissected clown's innards, but…that actually increases the enjoyment.  Even Mrs. Guru liked these, and she generally doesn't like gummies at all, so…I hate to say it, but LADIES AND GENTLEMEN, WE HAVE A WINNER!