When we first were discussing the creation of Candygurus.com, we knew what our mission was, despite hating the corporate speak concept of "having a mission." We wanted to weed out the crap candy from the great stuff so that people would know what to buy. We also wanted to explore candies from around the world, finding the best from as many countries as possible.
If you've been tracking us at all, you'll know that we've had little success with Mexican candy. Love the people, the food, the culture, the beaches – just not their shitty, cloying, uninteresting candy selection. Note to Mexico: Not EVERYTHING has to taste like tamarind! What IS it with that stuff? You either love it or hate I guess. Anyhow…we've done it. We've trudged through the slop and found several quality candies that all of us would happily pay money for. So now you get the dish:
Exhibit #1: "Tix-tix"
We bought these in the "mega" (big supermarket) cause they looked like SweetTarts on a stick. Guess what? More or less, they are. But better, kinda.
The shape is odd, which really freaked out Scotty, but I didn't have a problem with it. Whereas you expect the thing to crumble away in your mouth, it doesn't. In fact, even when my rogue molars started biting on the thing out of habit, it still didn't break up, making it a very solid lolly sesh. For a few minutes.
Then, everything changes. The saliva takes over, the thing becomes a bit softer, and you bite it. And then the whole thing explodes like a sour wave. Trust me when I say it's a BIG wave with plenty of flavor. The pops come in Grape, Mango, Strawberry, Watermelon and Tutti-Frutti, and all of them are good. If course, you have to deal with that "super sour scraped tongue" feeling you get with Sweetarts, but-that's just an occupational hazard.
Bottom line, these rock. I'd eat the hell out of them constantly if they were widely available. Smartees makes a version and here is a Mexican site to buy from.
Exhibit #2: "Gudu Pop"
We bought these Starburst-looking things called "gudus" on our first day. The flavors were dope- grape, mango, basically the same as the tix-tix pops. After a few hours of eating them (and I mean, seriously-we ate SO many), we started creating our own flavor combinations. The best, in my opinion, was grape and mango. We'd take a few, unwrap them, and squish them together into an impromptu patty.
Cut to the next few days. We found these: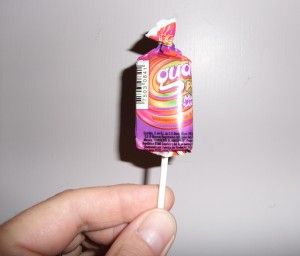 Ironically, they're exactly what we had tried to make ourselves, made by the same company, using the same flavors. Oddly, they put it on a stick. I still don't get that, as it's not a lollipop-it's a chew, dammit. But I'm not one to look a gift horse in the mouth. These are amazing. I heart these. sour, sweet, tangy, real fruit and fake fruit flavor all rolled together into hellofa good chew.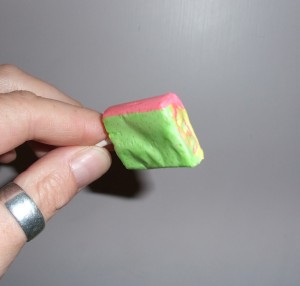 Hard to find, but that's what we do, yo. Claim them here.
Lastly, I bring you Exhibit #3: Ye Olde Mexican Blo-Pop, aka "Paletiux"
(Or it could be "Paletlux", I can't tell for sure.)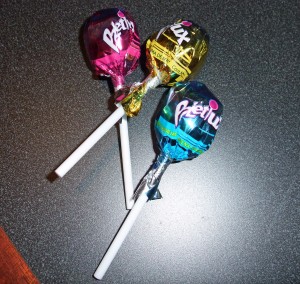 While not being ground-breaking, these pops are definitely good. They're more or less blow pops, with a twist. The flavors are mango, blue raspberry, and red. Yes, red. I have no idea the flavor, but it's good, so let's just pretend it's strawberry. All 3 flavors are really tasty. The blue raz has a slight and I mean slight menthol edge, which sounds gross but is really good. The mango is stellar, and the red is…well, red.
But here's the thing: unlike the Blow Pops we get here-which are good, but have disgusting flavorless gum in them–these have a much smaller piece of gum. And the gum itself is much more flavorful, and grainy with sugar, not smooth and stiff like baseball card gum. This means more pop to suck on, a shorter gum chew, and a better gum chew. I haven't found an online link for these bad boys, but will share one as soon as I find it.
Viva Mexico!
We thought it couldn't be done: we thought there was no hope for Mexico. But there is, so go out and get some. Coming soon, a video review of some highlights from our trip, including the best El Pastor tacos ever. EVER.