I was first introduced to wine gums in 2004 when me and the missus took our ill-fated Italy trip. (Note to readers: if you or your wife is pregnant, and doesn't like the smell of moped exhaust or the fact that she can't get a Denny's "Grand Slam" breakfast, you probably shouldn't go to Italy during that time.)
It wasn't all bad though: I had a $12 gelato (Hi! I'm a tourist!), the best pork cutlet of my life, and saw some great sights. More importantly though, I had to stop over at Heathrow airport, or as I like to call it, candyworld®. It was there that I picked up a bag of Maynard's Wine Gums and fell in love.
Recently, I stumbled on to these at Cost Plus World Market, or as I like to call it, candyworld2®. They're made by a company called Taveners: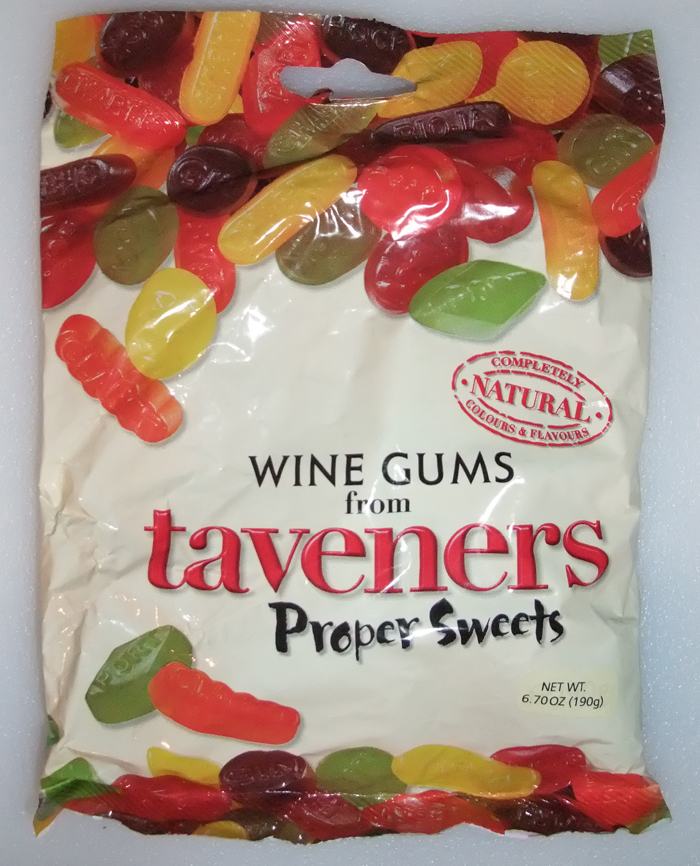 I love how it says "proper sweets" on the bag, it reminds me of MC Hammer: "Proper!". Anyhow, I wasn't really expecting these to be all that great. But a local source of wine gums was a good thing, so I picked up a bag. I was blown away. Not too soft, but not as hard as the Maynard's Wine Gums, the flavors on these were just spot on. Lemon, lime, strawberry and black currant are there, but there's also orange and another flavor, but I'm not sure exactly what that one is. No matter. These are addictive, and they rock.
If you've never had wine gums, they don't tast like wine, nor do they have any alcohol in them.
Sorry, drunks!
However, they do have a quality that clearly sets them apart from other gummies. I'm not sure if there's some sort of subtle flavoring added, or what the deal is, but they're dope. They're like gummies for adults-a sort of refined taste that is extremely tasty, but a little more complex than your garden variety ghetto gummie.
The great thing about these, at least for Bay Area folks, is that they're available at Cost Plus. They've been there for months and are still there, so I think we can count on them being at least a semi-permanent addition.
If you've never tied wine gums, you owe it to yourself to pick up a bag. If you like wine gums, then you need to try this brand. If you don't like wine gums, then…why are you still reading this? Seriously, we don't need you here.
Go away.
Now that killjoy is gone, it's up to the rest of you to enjoy. Let me know what you think…