Recently we were sent some samples from King Leo's Candies. You probably know them best from their peppermint bark- it's good stuff.
However, I got no bark love. Instead, I got a large assortment of "puffs". Check 'em out: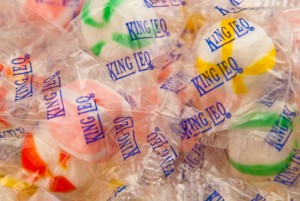 and unwrapped:
These things are all about consistency. The closest comparison I can draw to them are a certain kind of Grandma mint you might have had- it's hard, but as you suck it, it softens up, and then sort of gets a grainy, soft consistency, until it breaks down in your mouth.
Had one? Any idea what I'm talking about? No? From the top then…
The flavors I got were: Orange & Cream, Strawberries & Cream, Key Lime, Lemon, Peppermint, Watermelon, and Pomegranate. The cool thing about these is that all the flavors taste good. Even cooler is that each particular flavor has a slightly different consistency from the others. For instance, lemon are more dense, and take a little longer to break down then the others. And on the other side of the spectrum, pomegranate are bit less dense and quicker to break down. While I enjoyed all of them, I had two favorites. Runner up: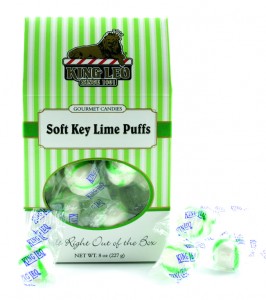 The Key Lime. Really nice tasting, not too acidic, with that unique key lime flavor. I was addicted to these until I tried the….
Pomegranate: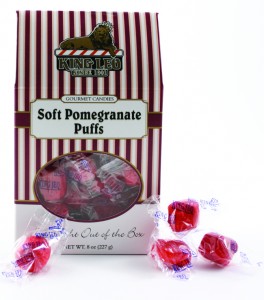 Holy anti-oxidants, Batman! These things rock! As you can see, they're not white, but instead colored like pomegranates all over. All of the other flavors look like the lime (as you can see from the unwrapped picture up top), white with an accent color of that particular flavor. The pomegranate however, stray from the crowd. And I aint no food scientist or nuthin', but I'm thinking that the colored outside is at least partially responsible for the softer consistency.
I like it. A LOT. the pomegranate flavor is dope- very authentic, with the perfect combination of sweet and tangy.
The best part about tasting these candies is that I doubt I ever would have picked these up if I saw them in a store. Now though, I'll seriously considering ordering a few boxes of the pomegranate, key lime, and maybe even lemon.

(You can order then online from the King here)
I really like this company, because in addition to sending me a buttload of free candy (much of which I'm not reviewing here), ALL of the candy had a quality look, feel and taste. Their peppermint/chocolate sticks are dope. Their bark, as we all know, is the shizz. And that's weird, cause usually some products are good, some are weak, and life goes on. But across the board, I noticed an emphasis on quality flavor, manufacturing, and packaging. Kudos to the king.
Seriously though, when the holidays (and YES, I mean Hannukah!) roll around and you're about to buy that crappy peppermint stick assortment at Target, do yourself a favor and order some peppermint love through the King instead. And when you do, do NOT forget to get some pomegranate puffs. I just ate another.