Normally I'm not really a chocolate reviewer, but Matty got me this tin of 100% dark cacao nibs dunked in 65% dark chocolate, so I have to.  It'd be rude not to.
Let's start with the good.  The tin is cool looking, and functions well.  Now to the bad.  The design looks like Prince puked it up, and it's confusing to know what these things really are.  In fact, I really didn't get it at all, until I opened 'er up and took a look: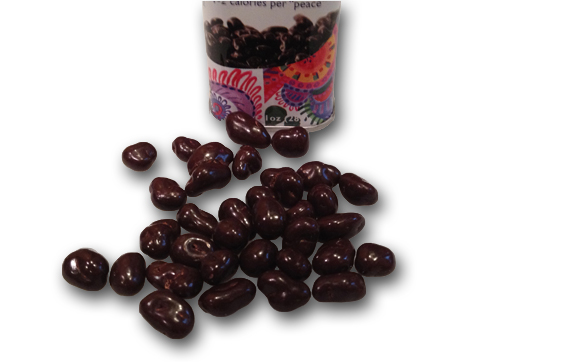 Whoah.  Before we get to taste, let's talk about the elephant in the room.  You know what I'm talking about – nibs.  Nib?  What IS a nib?  Well, when cocoa beans are roasted, cracked, then shelled, they become nibs.  They're like little crunchy earthy thingies.
The process is to take those thingies and dunk them in 65% dark chocolate.  The result?  Outstandingness.  For so many reasons, really.  First, it's all about dark chocolate-we won't get into that debate.  But the thing I really appreciate about these is their impact/size ratio.
These are tiny.  The size of a tic-tac, even smaller.  Yet, they pack a wallop.  Complex, earthy, sweet, AND crunchy.  Best part?  Each one tastes like you just ate a square of an amazing chocolate bar.  You get that lasting mouthfeel that dark chocolate brings, that grainy earthiness that's so hard to describe.  Despite tasting so huge, they only pack 1-2 calories a piece!!  Are you hearing me backfat???  I said 1-2 calories EACH!!
Sitting down and eating 10 of these is satisfying, seriously.  And they give you a shit ton in the tin, so it's a great value.  Overall?  These are winning.  I WILL buy them again, and likely will keep them on hand for a quick chocolate fix.
I can't tell if I like the name "Sweetriot" or not.  It harkens me back to the band "10,000 Maniacs", which I thought would be hardcore punk trio but turned out to be a hippy chick doing a weird dance covering Cat Stevens.  I'm not sure I think Sweetriot is a fitting name for this product or not, that's gonna be left to you guys.  But I highly recommend these.  It should be noted that these are "all natural", gmo-free, dairy-free, gluten-free, and most importantly, Kosher.  Phew!
It's good having friends like Matty.  Oh, also, I beat his ass in our Fantasy Football playoffs last night – score one for Jonny!