Know what?
Who care about this candy?  Look at our new banner!  Gemalicious, right?  Damn it we're good.  Look for more improvements coming soon.
But to answer my own question, I care about candy.  Way too much.  To the point where I buy the stuff everywhere I go, putting consistent dents into junior's college fund.  The thing is, I usually share with him, so it's a wash.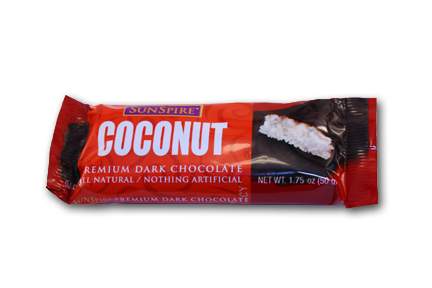 In the checkout line of my local Paradise Market (just like Whole Foods in that they have "good food" that they charge you "a lot" for and "don't have sales"), I saw this Sunspire Coconut bar.  "Premium dark chocolate, all natural, nothing artificial".  Well ok, then.  Gideeup.  With a short ingredient list that includes only dark chocolate, dried unsweetened coconut, white rice syrup, pure vanilla, cane juice, molasses, cocoa butter and soy lecithin, they get the Candy Gurus official stamp of honesty.  When they say natural, they're not hiding behind the veil of the BS "natural flavors" generic term that can mean anything, especially and usually unnatural shit.  Big points for Sunspire on this one.
I love coconut.  LOVE coconut.  If you've been following us, you know that most of our coconut candies have fallen short, usually because they don't taste "real" enough.  Well, the cards were finally on the table, as this was the real deal.  The chocolate is dark-not too dark, but you definitely get that rich, full body thing going on your mouth without a ton of sweetness.  That's the first note.
The second and only other taste that rolls in is the coconut.  And mama, let me tell you – this is the real deal.  Flaky, sweet, chewy shredded coconut goodness, intermingling with the smooth offsetting dark chocolate.  It's a delight. Chewy, definitely NOT overly sweet, and textured.
I have nothing bad to say about this bar.  It's not the best thing I ever ate®, but it's damn good and I'd buy it again.  2 bucks though, so it's not not expensive.  For me though, good candy trumps college and most cash concerns.
The big question though, is it better than a Mounds bar?  Yes, although a Mounds will always hold a special place in my heart.  But this is better, bigger, and more yummierish.  I recommend,