We've reviewed 7 varieties of Skittles here over the years. And for me, the best still remains original Skittles. Some varieties are great (Sour, Sweet & Sour), but most are just take it or leave it. I've been looking for the Brightside & Darkside varieties for a while (mostly to get the much revered lime flavor back that was removed-that's in the Darkside variety), and I finally found one of them.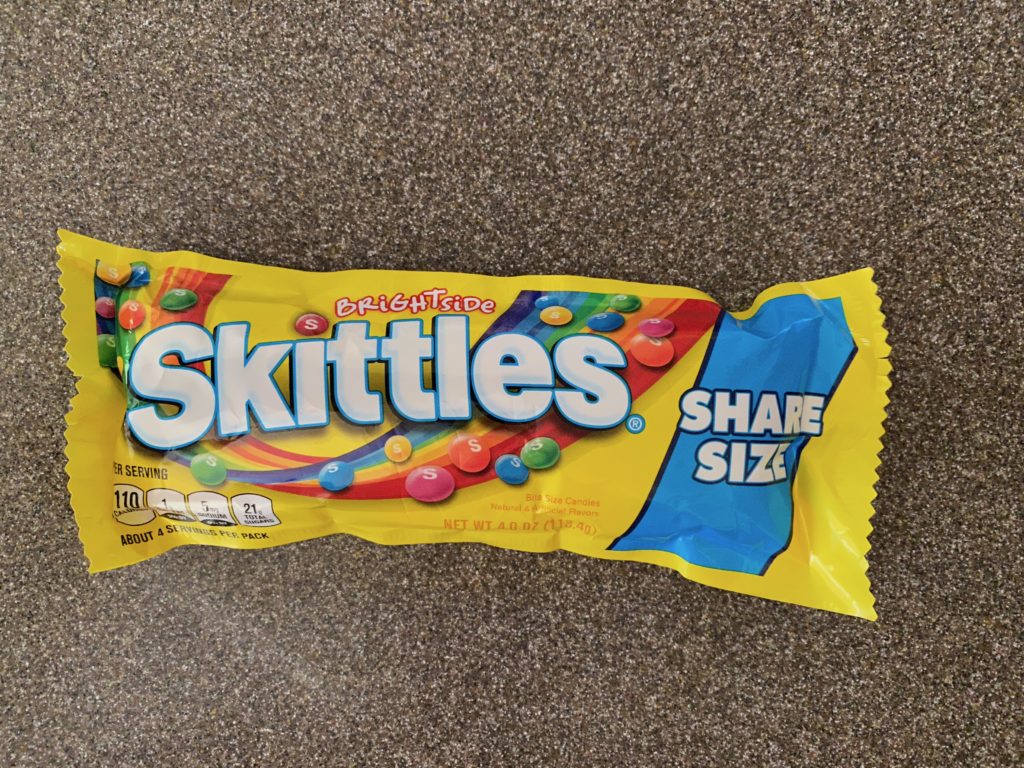 Why is it "Brightside"? Your guess is as good as mine. I guess the flavors are…bright?
I suppose an argument could be made that they're "upbeat" "summery" flavors. Sorta. Who cares. The question, as always, is how to do these flavors work? We don't need to talk about the chew-if you don't understand Skittles fundamentals, then you really need an education , stat. Chewy, hard, then soft, grainy, fruity perfection.
Kiwi Banana– You're playing with fire when you use banana in candy, but I have to say, I liked this one. I couldn't taste kiwi at all. Pairing that with something as strong as banana seems odd, but for me, this one worked well.
Pink Lemonade-if you simply say the words "pink lemonade", ya got me. It started by drinking the concentrated tubes that you'd get at the grocery store, slide the frozen chunk into a pitcher, then water it down & stir. I really really loved that stuff, and I bet I still do.
From there, pink lemonade entered the candy-verse in the 80's with Pink Lemonade Jolly Rancher Stix. The best. THE best Jolly Rancher flavor of all time (they still use it in one of their lollipops for the die hards).
This Pink Lemonade tastes good-it's not as intense as maybe I'd like, but then again this isn't a sour variety. But it's good, I liked it.
Paradise Punch– weak. Muddy, confusing, generic berry mixture… sweet. Didn't like it.
Watermelon-Fine. Mediocre. Although Mrs. Guru, who HATES watermelon candy (don't ask me why, I don't get it either), didn't mind this one.
Tangerine– nice mellow flavor, although with tangerine I really want a little more bite, a little more zing.
Overall, I can't complain about this variety, but would I buy it again? No. I still prefer the original variety to these.
These aren't bad though-but if you are going to give them a shot, you might as well get the combo pack that also has the Darkside variety. Link is in the usual place.