A repost from 2013 because if you like sour candy and you haven't had these Sour Suckers then you need to take a long, hard look in the mirror.
—
What's better than old friends?
Old candy.
One of my oldest buddies, way back from my Frankie Goes To Hollywood & clove cigarette days, Zvi, is Canadian. He regaled me with tales about "sour keys" and how amazing they were. Until a few months ago, it was all just conversation. And then he dumped this bucket of insanity on me.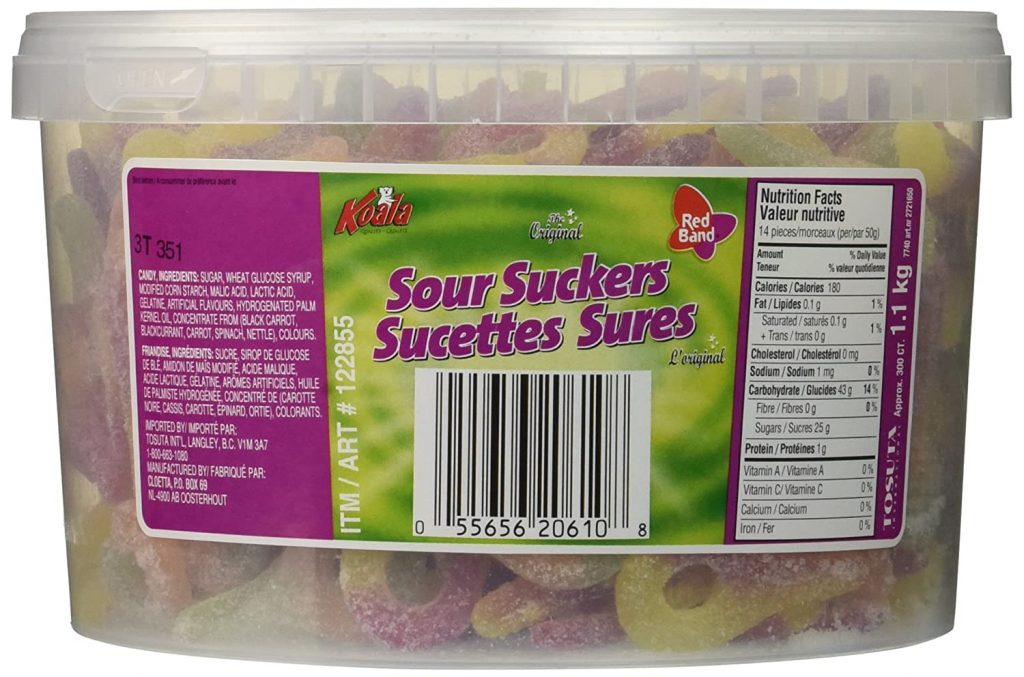 Handing over these Red Band Sour Suckers, Zvi apologized, "I'm really sorry, these have been sitting in my house for literally a year."
I just patted him on the back and said "Friend? You don't need to apologize. You've aged them. In fact, I bet they're not stale enough for me."
Well folks, here's a first: These ARE PERFECT.
I'm not exaggerating, these are the best sour gummies I've ever had. And I'm very particular.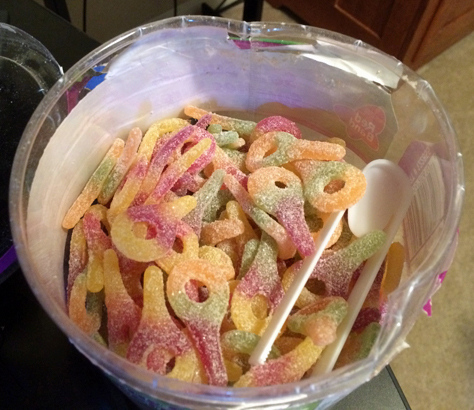 They come in a cylindrical shaped container, with plastic tongs for doling out at the corner sweet shop. Silly manufacturers, DON'T THEY KNOW I'M EATING THESE BY THE HANDFUL?
I'm not familiar with an American equivalent, but in theory, these are simply "pacifier" shaped sour gummies. But they're so much more. Dense, small, and HARD, these things are a workout for the jaw. The sour level is definitely on point — sour enough to salivate to, not sour enough to rip off a layer of your tongue. Unless you eat a half pound in a sitting.
But the flavor..oh man. So good. I couldn't find detailed flavor information, but there's definitely notes of lemon, berries, and perhaps lime and orange. The flavors pop in the best way.
The rub on the Red Band Sour Suckers? For many of you these will be too "tough." I'm sure that if you buy a new bag, you run the chance of them being a hell of a lot less tough than the container I got, but I can't see them being soft. Ever. So if you're not into tough chewy gummies, you won't like these. But if you're insanely smart like me, you'll freak out over these. And in the kicker department, they're not THAT hard to find!
Big thanks to Zvi for being a bro, but more importantly, for shedding light on this hidden gem of the candy world.