World's shortest candy review, ok?  Get set, GO!
Carlos V bar, from the diseased shores of Mexico: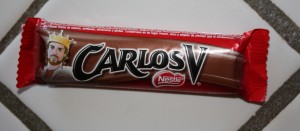 Looks stately, if nothing else.  Unwrapped, it looks….like a chocolate bar: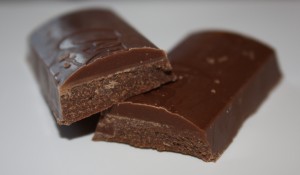 And…that's it, folks!  It's a chocolate bar!  Really though, what the hell am I supposed to say?  It's basically a not quite as good as a Hershey bar chocolate bar.  Sweet, …and chocolate-y.
So you get now why I don't usually review chocolate?  Not really my forte.
In truth though, there's nothing special about Carlos, except the fact that he's Carlos the 5th, not 4th.  Important to know, apparently.  But as far as I can see, this bar is filled with some uninteresting chocolate-y filling.  It's not bad.
I thought they were excluasive to Mexico, so that you'd n ever have to waste your time with them, but lo and behold, I saw one in Walgreens Saturday.  So basically, if you're into mediocre chocolate bars, by all means cruise out to the 'Grens and buy some.  Me, if I'm on the milk chocolate tip, I'm buying a Twix.
But if I REALLY want JUST a milk chocolate bar, which I never would, it would be Hersheys, and not this.  Too Carlos-y.