Before I say anything, just look at this bag of Katjes Cassis Gummies:
Look at the woman's face. Doesn't she look happy?? I mean, REALLY happy? Look again.  Despite not being condoms, these things inside are "her juicy pleasure".  That's impressive.
That's the kind of happiness I'm after, so of course, I bought these. That wasn't the only reason though- Katjes is a lesser-known candy company from Germany that makes some quality gummies, but more importantly, some seriously high quality licorice varieties. Look for a review of our favorite Katjes licorice to come, but for now…it's all about gummies.  Cassis gummies.
Who doesn't know what cassis is? Let's see a show of hands. That's fine, don't be embarrassed. Cassis is essentially the black currant fruit, used more specifically in the context of creme de cassis, a black currant flavored liquor (which ROCKS when you pour a bit of it into my 3 citrus margaritas). In Germany and definitely in the UK, black currant is a very common candy flavor–I'm really not sure why it's not used at all here in the states. It's a deep, sweet, tangy combo, reminiscent of blackberry and a bit of pomegranate.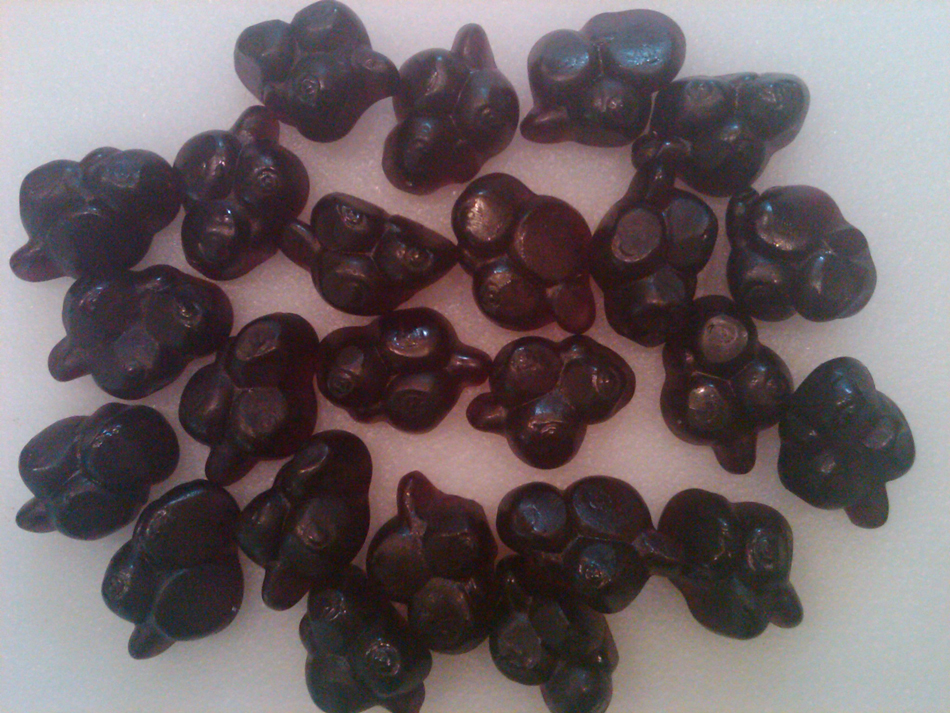 See? They're cute, like little grape bunches!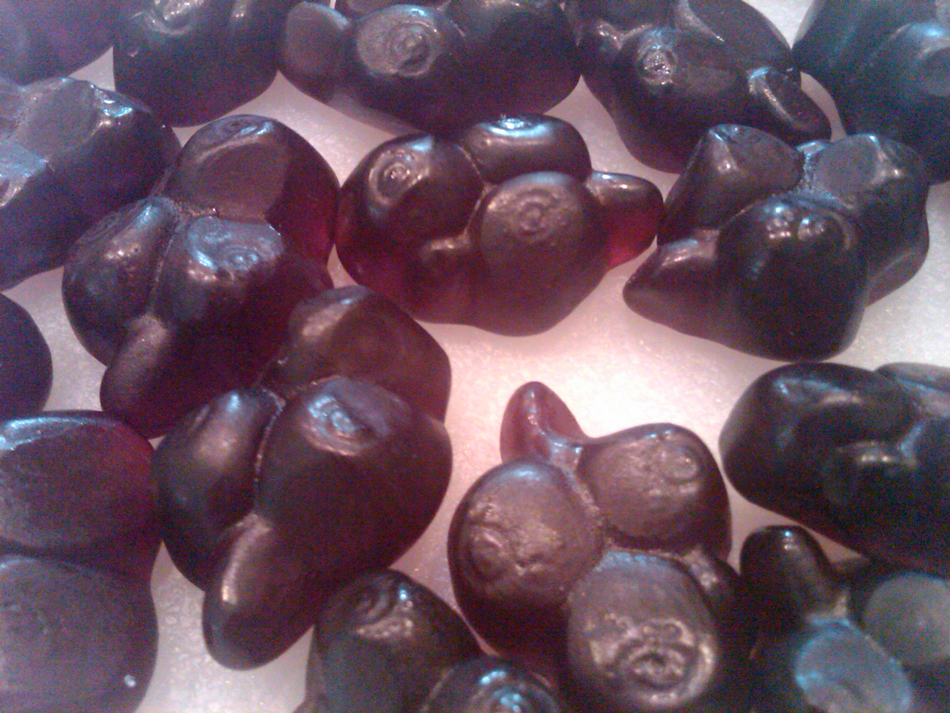 After I ripped the bag open and tasted one, I definitely came away with a positive reaction. They're tasty, and definitely represent the black currant flavor well. However, …I found myself getting a bit bored after a few. I tend to like mixes of gummies more than bags of one flavor, so this wasn't unusual for me.
What happened next though…no one could have ever predicted.
Or, actually, they could have, I just didn't. The next time I went to hit up the bag for a few, I became obsessed with them. The flavor, the tang, the consistency (not as tough as I usually like gummies, but this actually worked in favor of them this time)–everything worked. I created a sort of black currant pipeline: out of the bag, and into my mouth. Over and over and over again, till- poof! Bag gone.
Maybe it's the uniqueness of the flavor, or maybe it really is a special li'l gummy. But I'm here to say that these Katjes Cassis gummies do in fact rock. As far as availability, you can order these online from our friends at Germandeli.com, but I actually found them at my local Cost Plus World Market, or as I like to call it, the candy place. My GOD, do they have a lot of candy there. It's a beautiful thing.
When you get your hands on these, here's what you do: pop in mouth, suck.  Coddle even.  Finesse it.  Then chew, eat, and repeat.  Genius.