If you ask my daughter what her favorite baseball team is the answer will probably be the same as the answer to the question what is your favorite dessert or princess dress or shoes or flavor of lollipop or color. PINK. The girl is all about pink and luckily there are at least a half dozen Chupa Chup flavors that are pink. Cherry, Strawberry, Watermelon, Berry Yogurt – all close enough to pink to satisfy Baby Gurette.
And when your kid might break down because you lifted her down off a chair instead of allowing her to do it herself having an abundance of pink lollipops is a huge plus. Luckily Chupa Chups take care of the boys too. In the flavor category, I see Jelly Belly and these guys as the clear winners. There are 50 flavors of the regular size and 7 in both the smaller and extra large sizes.

Are these the greatest Lolly out there – not even close – but they are good. Actually pretty darn good. The flavors are distinct. My favorites are the fruit flavors – orange and watermelon particularly. Chupa Chups boast 5 lollipop lines – Classics, Minis, Sugar Free, Filled Lollipops (bubble gum in the middle) and Cremosas (swirled with cream and sugar free). I've only tried the Classics but again there are 50 flavors and I've tried about a dozen. The Chocolate Vanilla is interesting and a great sweet treat to satisfy that chocolate hunger. I really liked the Strawberry Yogurt but later on I tried the Berries Yogurt and it basically tasted the same. I always feel that yogurt or cream does that to candy. I'm looking forward to Mango, Capuchino Vanilla, Cola Lemon and Coffee. Not psyched for Cucumber but who knows.

Matty thinks they last too long but I actually like that because I like them. They do last a long time – very long. And that keeps other treats out of my mouth, which is very good.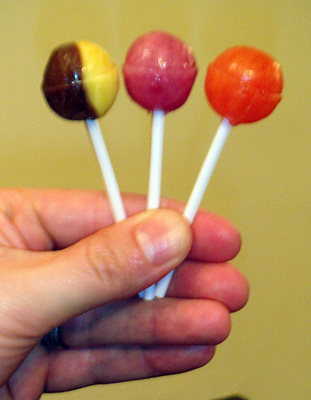 There are other issues I have with these Lollys. First, there is a slight chemical flavor. I really like the flavors for the most part but… However, the biggest issue I have has nothing to do with the candy itself but the design of it. The stick is hollow. That's right – its hollow. Alert the media. Ok – no biggie right? Wrong. Chupar means to suck in Spanish. Yes Chupa Chups are Suck Sucks. And at least a third of the Suck Sucks I've sucked have no suck because they aren't connected to the stick perfectly. This causes an almost 100% decrease in suction because when they are loose the suction goes right out the end of the hollow stick. Can you believe that?

What bothers me most is that the fine people at Chupa Chups have to know it. It's obvious. And I hate when companies produce shoddy products – especially when they know it because that means they don't care. And that is so uncool. But what is cool is that Salvador Dali designed their logo. So I'll call that a wash and let them slide. But please Suck Suck people. Wikipedia says that you sell over 4 Billion a year to 150 countries – change your stick. Give us back our suction.
So there is the good and bad but mostly good. They are cheap, tasty, varied and you get a little art on every wrapper even if a third of your sucking goes to waste.
And just so there is no doubt about it – my daughter, Baby Gurette is undeniably a Yankee fan – no matter what color their uniform.