A few months ago we reviewed Choclatique's incredible "Moon Rocks" chocolates.  In the process of doing this, I struck up an email relationship with the company's Co-Founder, Ed.  I think it's safe to say that Ed, while being one helluva guy, is not a huge fan of the sour.  Or the gummy.  Pair him with me,  not being a huge chocolate fan, and you've got the Odd Couple®.
Ed kept asking me why we liked the kinds of candy we like.  And of course, I couldn't answer that question.  Of course, when asked that same question, he had a lot to say.  It's pretty easy to defend your preference when it sounds cool: artisinal hand made high quality chocolates with exotic fillings.  Chocolate assortments based on Napa Valley wines (Mrs. Guru LOVED these), or the carnival (Jonny Jr. preferred these), or, as we already saw, moon rocks.  Yeah. that sounds a bit cooler than saying "uhh…I like sour stuff."
Finally, after understanding that we'd hit a wall, Ed came up with an idea: he said his company was going to make some chocolate covered gummies specifically for the Candy Gurus.  He also said that he wouldn't foul his taste buds by trying any, and that he was sure they'd be horrible.
Fast forward to about a month later.  A package arrived at our door.  Inside, a couple pounds of dark chocolate covered gummy bears and sour gummy worms: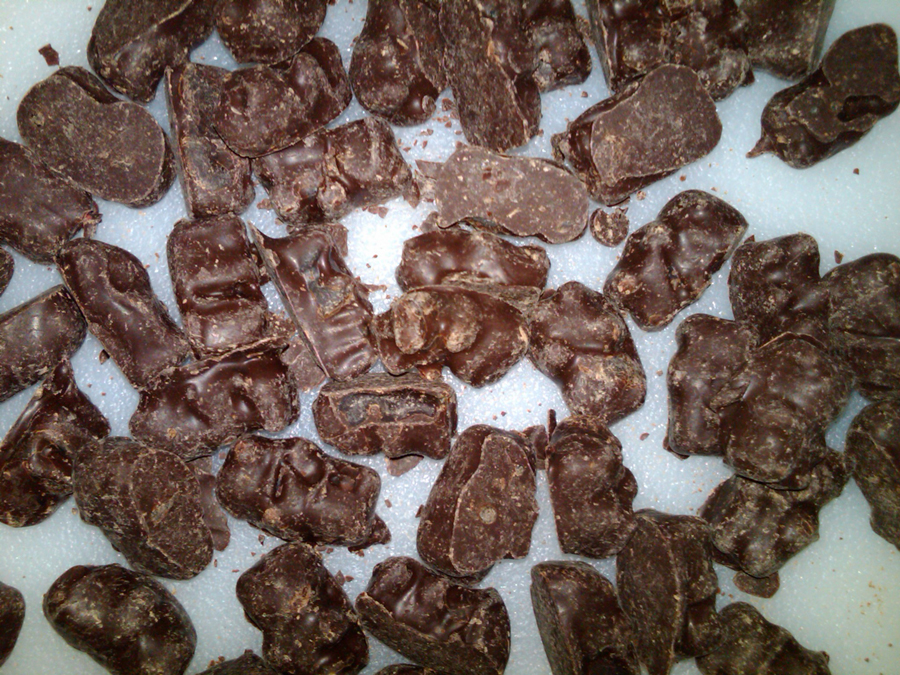 Since these obviously aren't available to purchase, I'm not going to spend a lot of time on this review.  I'll just cut to the chase:
Ed was right.  They're NOT good.  But it's not because of the chocolate, I can tell you that.  It's delicious, deep dark chocolate, very flaky and rich.  Nope, the chocolate's not the problem
The problem, Ed, is that you don't read this site very much, do you??!! You can't mix "A" grade chocolate with "D" grade cut-rate pharmacy-generic-brand gummies!!  It's the GUMMIES that are the weak link here.  WAY too fresh, too soft, not good flavors.  I'm guessing these were made by Trolli?
Check out the autopsy:

I'm not sure why all the gummy bears have the same dark, non-color color, but they did.  The worms however, were delightfully un-naturally bright, as you can see.
The news isn't all bad- I took a load of these over to my brother's Labor Day BBQ, and everyone there loved them.  Ate 'em up.  Gone.
But in the end, Ed was right.  Not good.  However…if Haribo Gold Bears were used and perhaps Haribo frogs or Twin Cherries  (mmm), I GUARANTEE that these would rock.
None of this reallly matters though.  The bottom line is that Ed is now the coolest person I've ever met.  Despite being very friendly and funny, the dude had his company STOP what they were doing and make candy he thought was revolting for us, just as a favor.  That's seriously cool shit.
So Ed, this post is my salute to you.  You've proved your point-sort of.  Next time, we're going grade "A" quality on the gummies.  Then we brand them as "Candy Gurus Choclatique Gummies" and we make a million bucks.
In the meantime, everyone seriously should bow down to what I feel are the best, most interesting chocolates around these days.  Their product line is insanely huge, and very fun.  Check out their website here.
Big ups to Ed & the gang at Choclatique.  Keep on keepin' on, and…for God's sake, people, try some frikkin' Haribo.  It's a whole new world.