The art of making hard candies is a beautiful one. I could watch the process for hours: from the boiling, to the molding and pulling of the almost-hard candy, to pressing/cutting out the pieces. It's really cool, and honestly something I want to try my hand at one day.
Also, I really love eating hard candies, especially old fashioned ones. There's something…I dunno, pure and old school about them. If the flavor's good enough, they're great. So it's all about flavor. Plus they look amazing in candy jars.
Today we're looking at some artisanal candies made by Chesebro's Handmade Confections. A fine mix of fruit flavors, and some insanely hot & spicy looking ones.
I should be clear: the real impetus for this review is the sour lime candy. Lime is like…in my top 3 flavors, so I needed to try these. But they were kind enough to send some other flavors. The huckleberry and elderberry really appeal to me, as not only are they classic, they're also not common flavors today at all.
As for the spicy ones…man, I generally don't like spicy candy. Which is weird, because I ADORE spicy food. We'll see how these fare in a different review. Today though, we're going to look over the sour lime, huckleberry, and elderberry.
To me, huckleberries taste like an exotic blueberry. Strong blueberry notes mixed with something that takes it to a new place. And these candies didn't disappoint-at all. The have a wonderful balance between sweet and almost tart, always supporting the huckleberry flavor. I was surprised by how much I liked these.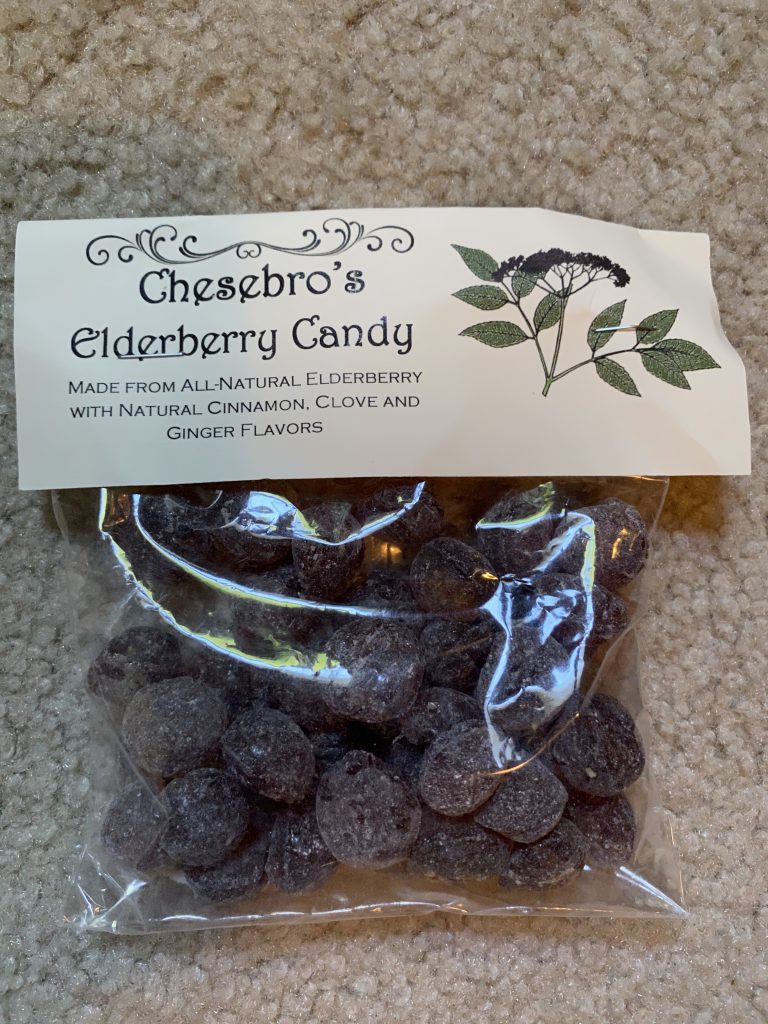 The elderberry candy however…was a miss for me. To be fair, I don't think it was the elderberry that threw me off-it's the cinnamon, clove and ginger flavors they add to it. I'm not a big clove guy, so it really hijacked the overall flavor for me. Having said that, if you're a fan of the winter spice mix, these could be perfect for you.
The main event is the sour lime candy, and let me tell you friends, they are the superstar of the bunch.
I love how they start mild. But as you suck on them for a few moments, the intense lime flavor comes out, and it's incredibly point. Then you realize it really is a sour candy, as the sour edge increases and increases. It never gets to tongue ripping territory, but it gets pretty high. Personally, I already love lime candy, but these also have that added aspect of really tasting authentic. They do have lime oil in them, so I'm sure that helps. These are wonderful.
I also tasted a few winners from the mixed bag, most notably their cherry (they have a few cherry varieties, so I'm not sure which one it was). Which, if you know me at all, is weird, because I generally gloss over cherry candy. This one, like the lime, really holds the intense flavors of the cherry correctly.
One thing I really appreciate about these candies is the outside dusting. A pet peeve of mine is sticky hard candy. One day all is well, the next the bag is one big clump of stuck together candies. Not these. These are done correctly, with a complete yet non obtrusive coating. But that's just a plus. The real star here are the flavors: I'll absolutely be back for more sour lime and huckleberry, and while I place the order I'll probably pick up some cherry and something else.
I highly recommend you click the link below and pick some up, while supporting a small candy candy in the process. Something to note though: these candies are made in a facility that uses nuts, and they clearly state on the bags not to eat them if you have those allergies, so be warned.