Pink Grapefruit with Grapeseed Gummy Pandas made with organic sweeteners.
About a month ago, I was browsing in a very high end expensive grocery store – think Whole Foods on steroids – when I came across these Organic grapefruit flavored gummies. They were outrageously priced, $4.50 for a 4 ounce bag but I bought them because when grapefruit is done right the Candygurus like.
Bissinger's brands their confections as "The Choice of Kings and Connoisseurs and they have been in business for over 300 years. They say that they made candy for King Louis XIV and Napolean. Hopefully this won't ruffle any royal feathers…but I begin with the bad news (you might want to get comfortable):
1. Mortgage the castle. These are the most expensive gummy candies I have ever seen. In real life, I would never dole out that type of cake, site unseen. But at Candygurus, we'll pay too much for candy so you don't have to.
2. The packaging is god awful (accept for the resealable pouch) – boring and a bit deceptive. There is a tiny bear sitting between 3 slices of grapefruit. I didn't even notice the bear there; I thought the candies would look like grapefruit slices…wish they did…which leads to…
3. They are SO un-original. Gummy pandas – please. Last time I checked Pandas are Bears.
4. I could go on and on, really I could, but Napolean's ghost is hovering.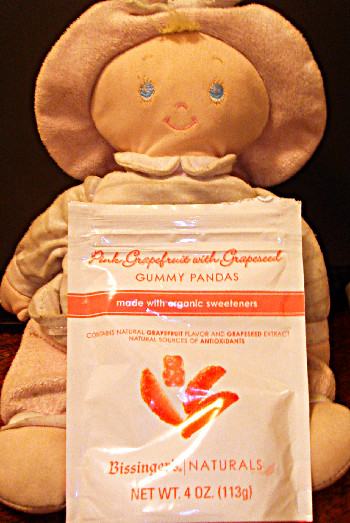 I did a quick check online and found these at $14 for a one pound bag. Haribo Gummy Bears, on the other hand, are $14.77 on Amazon for a 5 pound bag and they taste better. Maybe you argue that Haribo isn't made organically, with all natural ingredients or Gluten free and wheat free. Well, you're right but Yummy Earth's Gummy Bears are all that and they're only $2:64 for a 5 Ounce bag, which is 25% more at less than 60% the cost (basically half the cost) and guess what? Yummy Earth's gumm bears taste better.
I would have said Yummy Earth gummy bears taste way better after my first tasting of these Bissinger bears, but…perhaps the cost of the candy was playing games with my taste buds. Because, I admit these Bissi's are good. They taste like actual Grapefruit, although I have had better, and they have a slight tangy mouth feel that kind of matches the actual grapefruit tangy, tartness, which is a bit rare. I began to dig these over time. They are softer than what I prefer but in this case it works. There is virtually no tooth stick and the flavor is subtle – not overwhelming at all. On the whole, it turns out that I like these quite a bit. Still, $4:50 for a 4oz. bag?
Panda Gummy's come in 3 other exotic flavors:
Goji Guava, Pomegranate White Tea and Blueberry Acai. I would love to hear how any of these taste. So if you've tried them, leave a comment. Honestly, they would have to rock incredibly hard in order for me to splurge because we buy a lot of candy and there is plenty out there, of every variety, reasonably priced. If its uber-expensive it better be special.
You can check out these and other Bissinger organic confections here.