There was so much going against these gummies when they arrived.
First, they're from China. No hate towards China, but a lot of hate towards Chinese candy. Sure, there's one or two discoveries that I've enjoyed, but generally speaking, not a lot to write home about.
Next, the ingredients. Lots and LOTS of sugars + corn syrup. Good for the taste buds. Bad for the back fat.
Yet…there's also real fruit flavoring in these candies. Real fruit means it's not all bad news.
Still, most unfamiliar random gummies I try are simply not interesting nor particularly good.
But these 4D Gummy Blocks from Amos and their Fruit Gummy compatriots? Worth writing about.
Let's start with the Gummy Blocks. In the event this isn't clear, these are in essence gummy Legos.
The color and clarity on these are amazing. There are a few different sized bricks, in flavors Green Apple, Strawberry, Lemon and Blueberry. Yes, you can build with them.
More impressive though, is the eating experience. There's a slight callback to Jello — but in a good way, and they have way more "shproing" and resistance than that would imply. I can't believe I'm writing this, but they're fun to eat.
And they taste good, and not overly sweet, which surprised me. Some nice notes of each fruit. I liked these.
But not nearly as much as I like these 4D Gummy Fruits from Amos:
Look, I don't know what kind of tech they have in their factory, but Amos cracked the code on having multiple colors in one gummy. Muddy, misshapen, hard to decipher? No, no, and no.
Sure, they could do better with the randomness of the fruit flavors inside the package, but look at these things. Soo how real the pineapple looks! Honestly, they're beautiful to look at. And they are a solid size. DareIsay: hefty.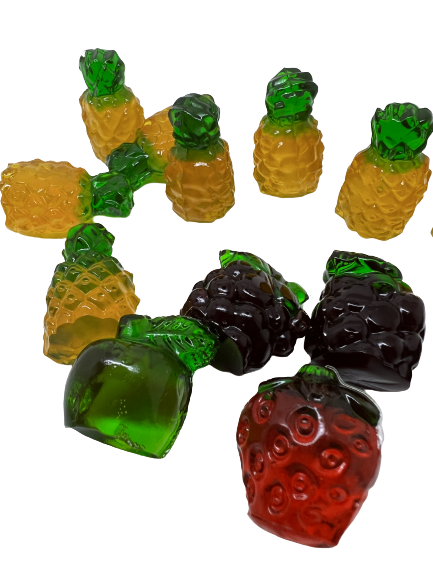 In addition to Strawberry and Green Apple, these veer off from the prior bag with Grape and Pineapple. And let me tell ya something: these are damn good. There's something about their consistency and flavors, and hell, maybe even their look, that makes them enjoyable. But take away the visuals and I'd still be saying they taste good, because they do. And oddly, the caloric count per serving is a bit lower than I expected (100 cals per serving).
Honestly? I'm shocked in that I don't have anything bad to say about these. If it's me, I'm buying the gummy fruits again and MIGHT buy the blocks. Whatever shape is your fancy, you should check Amos' wares out. And from now on, perhaps I need to pay a little bit more attention to Chinese confections.