Like many great things, it began with fantasy football. Jonny Guru, Matty Guru and I, Matty Jr. Guru, were at our friend Lang's house, drafting for our football league. I'm not going to go into the details of the draft, because that might even bore me, but it was a good, rollicking time had by all. (Except that moment when I drafted Darren McFadden, but we're not going to revisit that now.) But as memorable as the draft was for me, the real standout was not the fact that I got Adrian Peterson with the first pick, but instead the discovery of Tropical Stormz.
At some point that evening, I noticed several of my league mates with what appeared to be Tootsie Pops. Specifically, green Tootsie Pops. Yeah, you heard me – GREEN. Now look, I've been eating Tootsie Pops for years – I remember smoothing out the wrappers, looking for the little Indian kid shooting a star (my memory was that it got you a free lollipop, but it didn't, it was just supposedly 'good luck.') And I'd never seen green ones. Here's the thing – my guess was that they were apple flavored, and I was happy for that – but even more so, when I realized that they were in fact, lemon-lime. This guy loves the citrus, people.
Suffice it to say, it rocked my world. Would you think lemon-lime would go with the delicious tootsie center? It doesn't matter actually whether you would think that or not, because I can break the suspense — it does. More importantly, the lemon-lime flavor was brilliant – seriously tart but with a sweet overtone, and there are distinctly both lemon and lime flavors in there. It's not like the 'lemon-lime' flavor of, say, 7-UP (a delicious taste all its own, but one that I barely associate with citrus). This is good stuff, people – and it made me want to find more.
So, I went home and – because I'm a candy fool like the rest of folks here – I used The Google and found out something sad. Something horrible. Something truly dark.
These are almost impossible to find. In fact, they seem to never have been sold separately, but instead in boxes of what are called Tropical Stormz. I snared two boxes from Lollies Galore, which appears to be the entire U.S. stock. (Seriously. These are hard to find, and as you'll see, they shouldn't be.)
First, let's take the name of this collection – Tropical Stormz. Among other things, there's a totally unnecessary "Z" in there. What's more, it sounds like the name of a WNBA team. (This is not a compliment.) Just terrible. But moving past that, here are the flavors: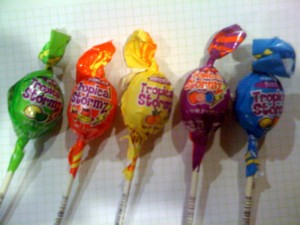 Lemon/Lime:  Let's just reiterate – these are GREAT. A clubhouse star and leader, and a true winner. If we're going to keep the football theme going (hint: we are) then these are stars ready for prime-time. Let's call these the Peyton Manning of lollis.
Berry Berry Bunch: The Berry Berry Bunch is the purple and pink lollipop, and that correlates to what I think is raspberry and blueberry. Both flavors are pretty good – and reminiscent of some of the more O.G. Tootsie Pop flavors. So if you are afraid of change, here's where you start. Consider it the California Roll of Tropical Stormz. The B.B.B. (or the Triple-B, as I now intend on calling it) is like that dependable receiver who racks up the yards, helps your team but never actually is THE reason you win a week. Ladies and gentlemen, the Triple-B is Wes Welker.
Orange/Pineapple: A perfect pair to the Lemon/Lime, this one is almost as appealing if you are a bit more citrus-averse and want to pretend you are drinking some fruity drink on a tropical island. If that's your goal, you're going to be disappointed … but only because it's not a drink, it's not going to get you buzzed and you almost assuredly aren't on a tropical island. (Cause if you are, stop reading this and go bodysurfing or something.) But otherwise, you're going to be happy – because once again, the citrus flavors are there and, like Teri Hatcher's breasts in that Seinfeld episode, they're spectacular. My one quibble here is that the pineapple is a bit masked by the orange, but it's a bit petty because I would guess if it was much stronger I'd be saying that it overwhelmed the orange flavor. What we have here in fantasy football terms is the solid workhorse, a stalwart on every team that occasionally puts the team on his back and pulls out the win. Folks, meet the Brandon Jacobs of Tropical Stormz.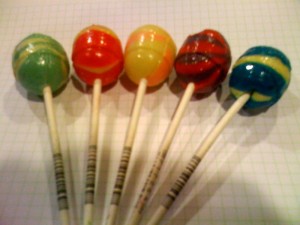 Strawberry/Banana: We are back in Sweet Land, and I can't really complain because the strawberry flavor here is crazy, crazy good. Strawberry isn't the hardest flavor to replicate, but dang if they haven't nailed it. It overwhelms the banana in my opinion, but seriously – have I mentioned how tasty the strawberry flavor is? That being said, I really have no idea what it's doing in a Tropical Stormz box. I've spent a lot of time on tropical islands, and I've seen exactly zero strawberry patches. Bananas, sure – but again, I can't really taste the banana flavor here. For this reason, I'm giving this a qualified score – and in fantasy terms, I consider this akin to the player who returns a lot of kicks and punts for scores – except your league doesn't count those, so his points elsewhere aren't all that great. Folks, meet Josh Cribbs.
Citrus Punch: I'll be honest – I was scared about this bad boy, for no other reason than the wrapper is blue. All this ever means in candy terms is 'blue raspberry" and I think that's pretty covered ground here at Candy Gurus. (Hint: It sucks.) I was even more concerned when I saw that the pop itself was blue, with a yellow stripe through it. But what I wasn't counting on is this: Blue has NOTHING to do with this flavor. Maybe, just maybe, they were riffing on the 'punch' thing and thought this evoked memories of Hi-C and Hawaiian Punch. I can roll with that. I can, because I don't care – because it's impossibly delicious. I didn't want to like blue candy, I really didn't – but the explosion of sour flavor here (a blend of lime, lemon, and orange and a punchy sweetness) makes a real statement. And that statement is: "I AM DELICIOUS." I stand corrected on this one (seriously, I'm standing now) – because I mistakenly thought there was no chance for success. In other words, this lollipop is Cedric Benson.
Apologies to those of you who don't follow football, since some of the above might not be that funny. And apologies to the rest of you who DO follow football, since you probably KNOW it's not that funny. (Note: Microsoft just suggested to me that I rewrite the last sentence "since you probably KNOW it are not that funny." OK, now THAT is funny.)
But to all of you, this I implore: Do what you can to show folks the demand for Tropical Stormz, maybe they'll get reissued and therefore I can enjoy them more. Do it! Do it for me! Do it for Johnny! DO IT FOR THE CANDY GURUS!