They are the size of a small cherry or big pea.
They are covered in dark chocolate.
They have caramel in the center, which is thick and not runny, that is salty and and not too sweet, with strong undertones of butterscotch.
I eat one and I can't stop eating another.
These Chocolate Covered Sea Salt Butterscotch Caramels are ridiculous.
Who the hell is this Trader Joe guy and why does he insist on selling me loads of good candy?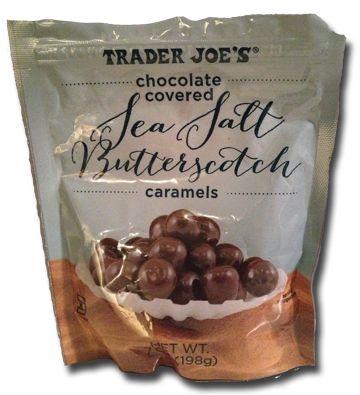 I've always had an issue with butterscotch. Usually too sweet, with no actual scotch flavor, I've only liked it in the right kind of tollhouse cookie. So when I first saw these things after Mrs. Guru brought home from a shopping trip, I didn't have high hopes. I knew the sea salt would give these things some hops but sea salt now is what pesto was in the 90's — EVERY candy has it; not much of a differentiator.
Howevs, I could throw my pre-existing judgements out the door baby!
These things are yummy:
You know me, I aint chocolate first. I always look gummy before heading to the dark arts. Oh I'll eat it. And I'll OVER-eat it like any sweet, but I tend not to. This bag of TJ's sea salt morsels though throws all that out the door. They are big taste in a little dark cocoa shell with all that you like butterscotch for, right in there, but not overly annoyingly sweet. Sea salt, caramel – these things taste like what they're called, and I can just sit and eat the entire bag.
Not sure I can really say much more here. If you live near a Trader Joe's store – get these. If you don't live near the grocer's you can click below and get it from some regular Joe's on the interwebs.