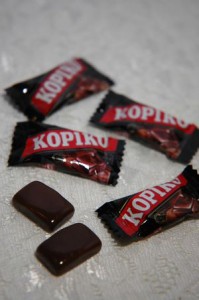 Coffee candy always reminds me of my Bubba (grandmother), which is a good thing cuz that woman was the best: fun and a partier – as much as an old Jewish woman can be – and always so sweet and everyone loved her. She had her likes and dislikes, like she seemed to love Coffee Nips. And Salsa. Sitting at a Mexican restaurant, she would eat that shit with a spoon – just gulp it down. At the time I thought it was a little insane. Now? Oh I get it. Hell, Herdez Salsa is one of my LOVErs: She's always there when I need her, she's cheap, and she loves getting eaten… (OH I DIDN'T JUST SAY THAT! Am I abso going to hell because I made a ref to oral sex in the same graf that I was lauding my Bubba?!! Just gettin' prepared…)
ANY hoo. Coffee candy. Reminds me of Bubba and that's good. Although, I never really liked coffee candy when I was younger and I ain't going out of my way now. Even though I love coffee. I drink a big cup every morning and I'm addicted and I like being addicted even if the cortisol in it makes me fat. And I love coffee ice cream and coffee drinks and all that. But still. Coffee candy? eh.
And then Sandy at work dropped three little pieces of Kopiko on my desk. Perhaps it's Turkish? Or Arabic? Wait. Can something be Arabic? Or is just the language that's Arabic…well whatever it is, I like it. These taste like strong, sweet coffee, but not too sweet. They are really hard – like obsidian with a similar sheen. No gummis these. But again, a real genuine coffee taste. And dare I say filled with caffeine? Cuz seriously, I'm high right now. And I can't stop writing. If you have anything you need me to write or do or say on paper then send it on over right now cuz I can't, nay I WOn't stop I'm just gonna keep going yeah baby!
Get these. Throw them on a candy dish. Keep the kids away, but invite your friends over to play Scrabble and live it up like Bubba.