Licorice.  Brussels Sprouts.  Olives.  Coconut.  All four are delicious, yet all are super polarizing : no one "kind of " likes any of them.  You either love them, or you hate them.  Coconut most of all, it seems.  So many haters! I can only chalk this up to many people never actually having the experience of eating a real coconut-cause if you do that, and you still don't like it?  Well…then I can't help you, I'm afraid.  There's something very very wrong with you, and you should have that looked at.
In any case, we love coconut everything, because it's decadent, healthy, unique, and refreshing.  I stumbled on these two new takes on the genre a few weeks ago at World Market.  Both hard candies (which most haters hate, I DON'T GET IT), one is straight coconut,the other infuses ginger into the mix.
Nice packaging.  Makes me yearn for a beer.
As seems to be the going trend, they're individually wrapped.  I think if they weren't, they'd all stick together in a dreamy coconut nightmare.
When open, they look almost the same-but not quite.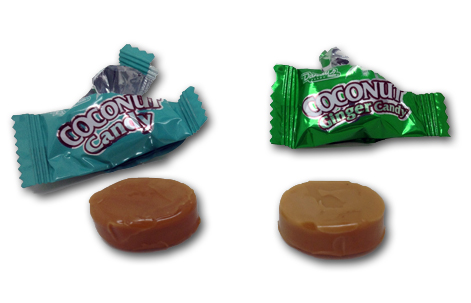 A slightly different shade of brown.  Cause…coconuts are brown?  Strike one, but a minor one.  Sugar turns brown yo.
Here's how it went down: I tried the coconut one first- and it immediately gave me that great flavor I was hoping for.  Very similar to the ChanGuang coconut hard candies Matty reviewed last year.  Same color too, more or less. Overall, a winner. Creamy, smooth, long lasting coconut.  The bite is fun on these too-very similar to Werthers.  Once you commit to biting, they shatter into tons of pieces, giving you that texture that was missing : crunch.
Second up, I tried the coconut ginger.  About 5 seconds in, I realized I would never have one of the plain coconut candies again.  Why?  There'd be no point : the coconut ginger not only trumped it in every way, it brought a whole new thing to the party.  Ginger.  And good ginger.  Spicy ginger.  But not overwhelming ginger.
The ginger plays in the background, but in a surprisingly spicy AND subtle role.  It's a minor layer to the flavor, but that layer?  DON'T GET ME STARTED.  Power player.  The flavor of ginger is there, and the nosey spice of ginger is there too.  Mix that with mellow creamy coconut, and you get one of those "why the hell didn't I think of that, and generally, why the hell am I less interesting that I thought?" kind of moments.
Do I recommend these?  Sure, of course I do.  But you have to be open to hard candy, to coconut, and add another polarizing food to the mix, ginger.  Don't bother with the regular coconut bag.  It's a tease.  A great tasting tease, but…bypass them for the brass ring.
Ingredients are: Sugar, High Maltose Syrup, Coconut Juice, Ginger Juice, Emulsifier (monoglyceride), Salt.
Not bad!